The freedom of the open road is unparalleled, especially when you're riding your beloved motorcycle. Whether you own a sleek sports bike or a classic cruiser, every motorcycle deserves a great home. After all, your motorcycle isn't just a mode of transport; it's an extension of your personality. Here's an ultimate guide to finding the best motorcycle storage shed for your prized possession.
1. Understanding the Value of a Motorcycle Storage Shed
When it comes to protecting your motorcycle, the value of a well-constructed motorcycle storage unit cannot be understated. A storage shed from Backyard Outfitters can ensure your motorcycle is protected from harsh weather conditions and other environmental elements, and it can provide more protection than just a reliable cover. It's an essential motorcycle storage solution that goes a long way in ensuring your bike stays safe, secure, and in prime condition. You've spent lots of money on your two-wheeled vehicle and keeping it out of the rain, snow and other harsh weather conditions is a smart investment.
2. Versatile Motorcycle Sheds to Suit Every Need
Motorcycle sheds come in a variety of styles and sizes. Whether you need to store more than one motorcycle or just want to ensure your bike has space to breathe, there's a motorcycle shed out there for you. Options range from the traditional garage-style sheds, with plenty of space and easy access, to utility sheds with double doors, or lofted barns that provide additional storage above the motorcycle. You can even find sheds with ventilation windows to keep your bike cool during the hot summer months.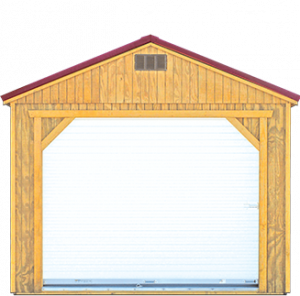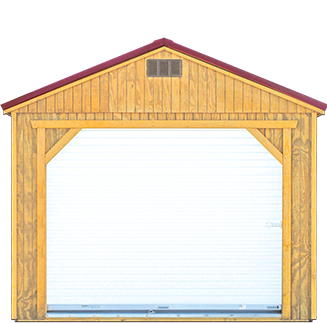 The Utility Garage is our best-selling motorcycle storage option. With a roll-up door, side door, and a window included in the model, this unit is perfect for storing your motorcycle with plenty of room to spare for accessories. We also offer a lofted garage version that comes with overhead storage space to store accessories for your bike.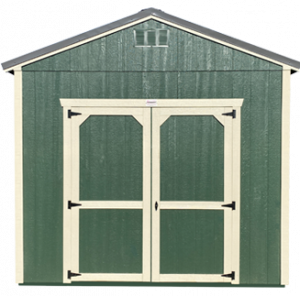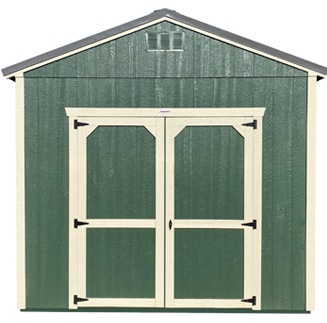 Utility Sheds are a great choice to protect your motorcycles. They often come with double doors, ensuring easy entry and exit, especially in the 10′, 12′, and 14′ wide versions (note: 8′ wide buildings come with a single door). One distinct advantage of our Utility Sheds is that they can be built with 8′ sidewalls (for an additional charge.) By increasing the sidewall height, you can create more space to work and store more of your stuff.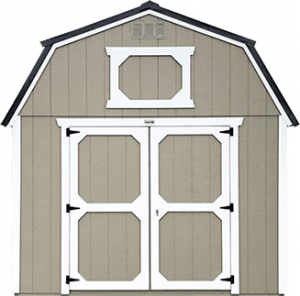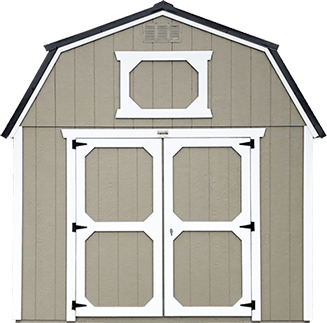 The Lofted Barn is a great third option to store your motorcycle. With a lofted barn, ample storage is built into the structure. With the lofted barn, the sidewalls come with a maximum sidewall height of 6′ 3″. The tradeoff on this compared to the Utility Shed is, again, the built-in overhead storage. You can use this space to store lots of things. 
3. Motorcycle Storage Solution: Essential Features
A top-notch motorcycle storage solution should offer more than just space. It should be durable and secure, with features like a robust locking system, UV-resistant and water-resistant materials, and lock holes for additional security. Also, consider looking for sheds where a ramp can be added for an easy access system to make storing your motorcycle a breeze. If you can't build a permanent motorcycle shelter, then a portable garage might provide the security you need.
4. Weather Conditions and Your Motorcycle Shed
The best motorcycle shed will be one that can stand up to inclement weather conditions. Whether you live in a region that experiences torrential rain, heavy snow, strong winds, or extreme heat, your motorcycle shed needs to keep your motorcycle protected. Backyard Outfitters provides storage sheds built with high-quality materials, designed to withstand various weather conditions and ensure your bike stays safe. When you store your bikes (or vehicle) in one of our sheds, you will have a sense of security compared to leaving your bikes out in the rain with no cover at all.
5. More Than Just a Garage Space
The perfect motorcycle storage building is more than just a garage. It's a dedicated space for your motorcycle, ensuring that your bike is protected and easy to access when you're ready to hit the road. Our metal sheds can provide good protection and can offer one of the best motorcycle storage options. Wood sheds or specially designed motorcycle storage sheds are often a better choice, providing more warmth and protection for your motorcycle.
6. Keeping Your Bike Running with the Right Shed
Keeping your bike running smoothly involves more than regular servicing. With the proper ventilation windows, you can increase the chances that potentially harmful fumes won't be a problem. You need to protect your financial investment from the elements when not in use, and that's where a motorcycle shed comes into play. A well-chosen structure not only keeps your bike safe but can also extend the lifespan of your motorcycle by offering protection from the elements, reducing the need for excessive maintenance.
7. Selecting the Best Motorcycle Shed for You
What makes the right motorcycle shed can vary greatly from person to person. It depends on the number of bikes you need to store, the space you have available, and the type of protection you're seeking. The perfect motorcycle shed provides enough space for your bike, offers quick access, and is durable enough to protect your motorcycle from the elements. 
In conclusion, when it comes to keeping your motorcycle safe, investing in a bike storage structure is an invaluable decision. Whether you're storing your best motorcycle over the winter months or looking for a daily storage solution, taking the time to choose the right shed for your needs will help ensure your motorcycle stays in perfect condition, ready for your next ride.
Motorcycle storage doesn't just protect your bike from the elements; it also gives you peace of mind. With the perfect motorcycle storage solution, you know that your bike is always safe, always protected, and always ready for the next adventure.

This article was updated on 06-28-23.