Where to Buy Storage Sheds in New York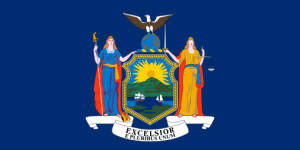 New York State is the fourth most populated state in the USA. New York is a very beautiful state as well as having a diverse geographical make up. New York State borders New Jersey, Pennsylvania, Connecticut, Massachusetts, Vermont, and Canada. Approximately 44% of the population of New York live in New York City. One of the original Thirteen Colonies, New York is nicknamed "the Empire State" and is famous for the Empire State Building.  
Backyard Outfitters has shed sales lot as far west as Williamsville, NY and as far east as Cohoes, NY which is a suburb of Albany (which happens to be the state capital of New York). We also have locations as far north as Lowville, NY and as far south as Nichols, NY. We have many different styles of sheds for sale in New York and they are all backed by our 5 Year Warranty. Some of the most popular sheds we sell in New York are our Lofted Barns, our Utility Sheds, as well as our Portable Garages.