Since we have launched our new barn customizer function, we have had hundreds of site visitors design a custom shed. The customizer uses a side lofted barn cabin as a base model, but all buildings (except metal sheds) can be purchased with these color options.  We have sifted through all of the custom shed entries that people have submitted and have created this article to show you how others have chosen to paint their barns. Drum roll please…
1. "Pinnacle Red" with White Trim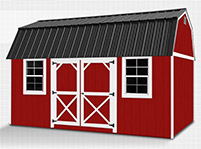 The old fashion "pinnacle red" barn with "barn white" trim was far and away the most popular choice. While it is hard to know exactly why this was the most popular choice, it could be that barn shoppers love the look of the traditional barn because it reminds them of these red barns that dotted the landscape as far back as the 30's and 40's.
2. "Barn White" with Black Trim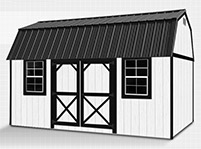 The "barn white" with black trim was the runner up in our survey. Over the last 10 years we have seen a trend towards more neutral colors and/or basic color patterns. The white exterior also helps deflect heat a little better which in turn can help keep the interior of the barn cooler as well.
3. "Wilderness Mahogany" with White Trim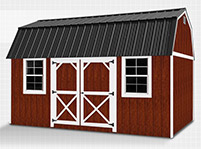 The "wilderness mahogany" finish on our buildings is one of the newest colors in our lineup of barn colors. With it's surging popularity, we can see this beautiful barn giving the "pinnacle red" a real run for its money.
As you can see, there are plenty of barn color options to choose from. These are the 3 most popular barn color options, but you have the ability to choose the colors that YOU love and want on your building. This was meant to be a guide to help maybe spur come creative thinking. If you haven't yet, give our 3D barn customizer a spin and design the backyard shed of your dreams.