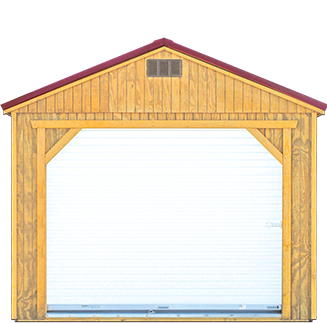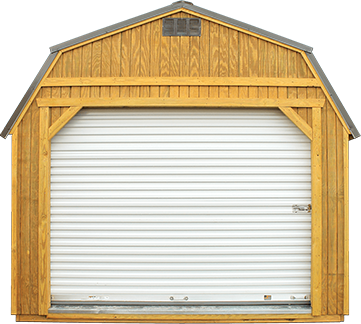 Portable garages have revolutionized the way we think about storage and protection for our vehicles. The ability of these buildings to withstand the elements and provide secure storage makes them a universal solution for car owners. In fact, they've become one of the most popular methods of safeguarding cars, motorcycles, trucks, and even ATVs.
Why a Portable Garage?
You might wonder, "Why should I consider a portable garage?" This heavy-duty building is much more than just a 'garage.' It delivers a multi-purpose storage space that can be customized to fit your needs. With extra space, you can store anything from vehicles to tools, equipment, and other large items.
Key Features of Our Portable Garages
Our garages are 12′, 14' , and 16′ wide and come in two basic variations: Utility Garages and Lofted Garages. The primary difference lies in the Lofted Garages' unique feature—overhead storage for items you don't use all the time. You'll find these garages come with a 9' x 7' garage door, a 9 lite window door, and one 2′ x 3′ window.
 
Customizing Your Garage
We provide a range of custom garage options. Both garages come in three different finish options: Treated (pressure-treated wood), Painted, and the Wilderness™ Finish (polyurethane treated.) Additionally, we offer a range of paint colors. Roofing options include either architectural shingles or a metal roof. Our construction team builds in the spirit of Mennonite craftsmanship so you can rest assured knowing your portable garage will protect your valuables or whatever you need to store.
 
The Value of Extra Space
You can never underestimate the advantages of having extra storage space. Whether you're trying to declutter your property or need a workshop for your DIY projects, our garages offer you the extra space you need. Our structures can be outfitted with heavy-duty flooring to accommodate many different vehicle types.
 
Quality and Durability
When it comes to purchasing a portable garage, quality should be your priority. Our buildings are made with heavy-duty materials, ensuring a sturdy structure capable of protecting your valuables from the elements. These garages are designed to withstand weather extremes from heavy snowfall to wind gusts, ensuring that your vehicles and equipment stay safe and secure.
 
Aesthetics and Style
Choosing a portable garage doesn't mean compromising on style. With our range of paint colors and finishes, you can easily find a model that complements the aesthetics of your property. Whether you prefer the rustic appeal of pressure-treated wood or the sleek look of the polyurethane-treated Wilderness™ Finish, you have plenty of options to customize your garage.
 
The Price is Right
Price is a key consideration in any purchase. We offer a range of options in different price brackets, allowing you to find a portable garage that suits your budget. Remember, investing in a dependable garage not only protects your vehicles but also saves you money in the long run by preventing costly weather-related damages.
 
Create Your Own Workshop
Our portable garages aren't just for storing vehicles. With the extra space, you can create a personal workshop. Whether you're into woodworking or car repairs, your garage can transform into a dedicated space for your hobbies. Many customers have turned their portable garages into "man-caves" or "she-sheds." There are so many more options available to fit just about any price point.
 
Ready for Delivery
Once you've made your selection and customized your portable garage, we're ready to deliver! Our team will install your garage securely on your property, giving you peace of mind and a new storage solution. Free delivery is included on your portable garage within 30 miles of your nearest dealer.
 
Protection Against Weather
One of the biggest advantages of owning a portable garage is protection from the weather. These structures are designed to shield your car, motorcycles, and other equipment from rain, hail, UV rays, snow, and wind. Whether it be snow, rain, or any other elements…keeping your car safe in a portable garage is worth the price just knowing your vehicle is safe and secure.
 
Carport vs Portable Garage
You might be considering a carport for your property. While carports can provide some protection, a portable garage offers more comprehensive coverage, shielding your belongings from the weather and offering more security. One more advantage of portable garages is the fact that they are much more movable than a steel-frame carport.
 
In Stock or Customize
Choose from our stock models or customize your own portable garage. We offer numerous features and styles to suit your needs. Need more windows or a different door style? No problem! Most of our in-stock models can be delivered with a couple of weeks (depending on the weather.) New build lead times can range from 4 to 8 weeks depending on the season.
 
5 Year Warranty
We stand by the integrity of our portable garages and offer a warranty and guarantee. Protect your car and other valuables with our sturdy, dependable buildings. We offer a 5 Year Warranty on the craftsmanship and materials on every portable garage we make.
 
Remember, investing in a quality portable garage will not only provide a safe space for your belongings but can also improve the overall value of your property. Explore your options today and enjoy the peace of mind that comes with a secure, weather-resistant storage solution.
This page was updated on 07-11-23.