Large storage sheds are used all over the United States and around the world. They come in different shapes and sizes. These structures are normally built out of wood, but also are built out of metal. Another material used in building these sheds is LP SmartSide siding. What constitutes a large storage shed? At Backyard Outfitters, we generally classify a larger shed as one that is at least 12′ wide and at least 30′ long. On a 12′ wide storage shed, you can expect to have double doors instead of a single door. On a portable garage, which could also be classified as a large storage shed, there is generally a single roll up door as shown here.
These structures are used by a variety of different people with unique needs. We have polled tens of thousands of our customers to determine what the 3 most popular uses for our larger sheds are. Here are our results.
Outdoor Equipment Storage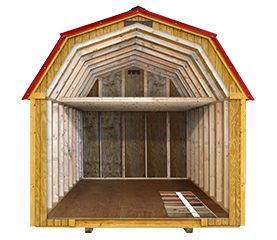 The most popular use for these larger sheds is for storing outdoor equipment. Most people in America have way less space in their garages than they need, so a larger storage structure is the most popular and cost effective answer to adding more space. The average customer keeps a riding mower, push mower, lawn care tools, gardening tools, and other supplies in their storage building. A popular add on to these buildings is a movable ramp which allows for easy entry and exit for wheel vehicles such as mowers and the like. With the popularity of outdoor activities such as gardening, lawn care, and landscaping, many homeowners find themselves in need of extra storage space for their equipment. Large storage sheds provide a cost-effective solution to this problem, allowing you to keep all of your outdoor gear in one convenient location. Adding a movable ramp to your storage shed makes it easy to wheel heavy equipment like riding mowers and wheelbarrows in and out, ensuring that you can access everything you need quickly and easily.
Vehicle Storage and Repair
Another very popular use of a larger shed is vehicle storage and/or vehicle workshop. A portable garage, which is technically considered a large storage shed, is ideal for parking a vehicle inside. With a 14′ garage, this provide tons of room to enter and exit the garage as well as easy entry and exit of the parked vehicle itself. Another popular use of this structure would be vehicle repair and restoration. The most popular model building used for this is the Lofted Garage. These are ideal for having enough overhead space when working on a vehicle. If you're looking for a cost-effective way to store your vehicles, a large storage shed may be the answer. Portable garages are perfect for parking cars or motorcycles, providing ample space for easy entry and exit. For car enthusiasts and mechanics, an 8' sidewall utility garage provides even more space, making it the perfect spot for vehicle maintenance. With high ceilings and plenty of room to move around, you'll have all the space you need to work on your cars and trucks.
Tiny Homes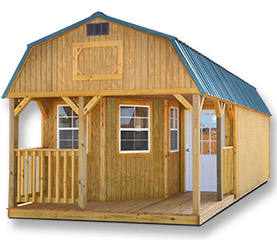 There has been a major trend in the United States towards smaller, simpler living. More and more people are buying a large storage shed and converting it into a tiny home complete with electricity and running water. Backyard Outfitters, does not sell tiny homes, however, several of our customers have told us that they purchased our larger storage structures, such as the Deluxe Lofted Cabins, and have finished out these buildings to make them dwellings. It is entirely up to the consumer to determine if a storage shed is suitable for a dwelling in their city & state. These larger structures can be up to 14′ wide by 40′ long which equals up to 560 sf of space. That is alot of space. Again…Backyard Outfitters, sells portable buildings and is not responsible for the way the end users use our storage sheds.While it's important to note that large storage sheds are not intended for use as dwellings, many people have found creative ways to transform them into tiny homes. With a bit of customization, you can create a cozy and comfortable living space that suits your unique needs.
Some other popular uses of these sheds are man caves, home office, homeschool classroom, and workout studio. Large storage sheds are a great solution to the problem of not enough space. If you are in the market for a building, give us a call or see our Locations Page to determine if we have a dealer in your area.
This article was updated 02-23-23.