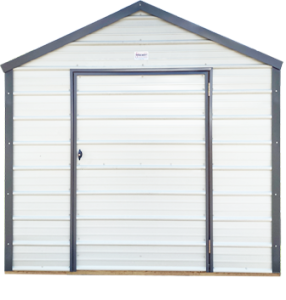 The secret is out. Our 8×12 shed is a much more cost-effective option for people needing extra space for garden tools, lawn equipment, and other belongings. There are plenty of reasons that storage companies hate our 8×12 shed, but none is more glaring than this one simple fact: by renting to own one of our buildings, you actually get to OWN the storage unit after you're done paying for it. To store your belongings in a 10×10 unit from one of the national storage companies, you can expect to pay between $125 and $150 per month. If you compare that to a rent-to-own 8×12 shed from Backyard Outfitters right at $99/month… the choice is clear. Why pay more when you don't have to?
We Deliver the Extra Storage Space to You
Another great reason to store your belongings in a building from Backyard Outfitters is because WE BRING THE STORAGE BUILDING TO YOU!! If you live within 30 miles of one of our Backyard Outfitters dealers, you can have a storage shed delivered to your location and set up at NO EXTRA CHARGE. Storage companies will not deliver a storage unit to your house and set it up for free. The added advantage of having your storage on-site is that you don't have to load up your vehicle and drive across town to the storage facility. With easy access to your own 8×12 storage shed, you can come and go as you please, without being restricted by someone else's hours of operation.
A final reason that storage companies hate our sheds is that you can get one from us with NO CREDIT CHECK. We make the process of getting a storage unit as easy as possible. By not performing a credit check, your credit score remains untouched and is not negatively affected by lots of credit inquiries. Even if your credit isn't as strong as it could be, you can still rent-to-own a spacious storage shed. Don't waste your hard-earned money on a storage unit from someone when you could get one of our rent-to-own sheds and OWN it. If you have any questions about any of our storage sheds, please give us a call today at 615-807-1386, and we'll be glad to assist you. Store smarter with Backyard Outfitters.
A Storage Space That is Kind to the Environment
In addition to the cost savings and convenience of owning your own shed, there are also environmental benefits to consider. Renting a storage unit from a national company often means driving back and forth to the facility, which contributes to carbon emissions and traffic congestion. With a storage shed on your property, you can reduce your carbon footprint and save time by accessing your stored items whenever you need them.
Furthermore, a storage shed can serve multiple purposes beyond just storage. It has been used as a workshop, home offices, yoga studio, or even a guest room. The structure's side walls and windows provide natural light, creating a comfortable space for various activities. This versatility makes it a valuable addition to your property, providing you with extra floor space and potentially increasing the value of your home.
The Perfect Space To Store Your Garden Tools
Lastly, owning a shed gives you more control over your storage situation. With a rented storage unit, you are at the mercy of the storage company's policies and procedures. They may raise prices or change their hours of operation without warning. With your own shed, you have the freedom to store bicycles, lawn tractors, lawn mowers, and other equipment, as well as small items on shelves along the walls. You can even create custom storage solutions to fit inside your new shed. This level of control can provide peace of mind and eliminate the stress of dealing with a storage company.
In conclusion, the benefits of owning a shed are numerous, from cost savings to convenience to environmental impact to versatility to control. Storage companies may not like it, but the choice is clear: why pay more and sacrifice control when you can own your own shed from Backyard Outfitters?
When you purchase a storage shed, you are not only investing in extra storage space but also investing in a sturdy, high-quality wood construction that will last for years. The ability to expand your storage options and organize your yard, as well as the potential to add additional rooms or workshops, make this shed an excellent choice for homeowners.
As a customer, you can be confident that the price, quality, and convenience of our 8×12 storage sheds are unmatched. With easy access, on-site delivery, and the opportunity to truly own your storage space, it's easy to see why so many people choose Backyard Outfitters for their storage needs. Our team of experts is always available to help you find the perfect shed and guide you through the process of bringing it home.
So, if you're in need of extra storage space or want to enhance your property with a versatile structure, consider investing in a storage shed from Backyard Outfitters. Not only will you save money compared to traditional storage companies, but you'll also enjoy the numerous benefits that come with owning your own shed. Don't hesitate to give us a call today at 615-807-1386 and let us help you find the perfect storage solution for your needs.
This article updated on 03-15-23.