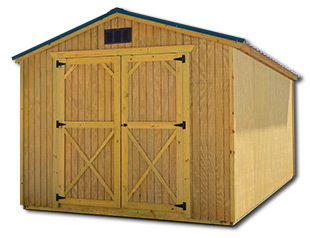 The secret is out. Our 8×12 shed is a much more cost effective option for people needing to store extra stuff. There are plenty of reasons that storage companies hate our 8×12 shed, but none is more glaring this one simple fact: by renting to own one of our buildings, you actually get to OWN the storage unit after you're done paying for it. To store your belongings in a 10×10 unit from one of the national storage companies, you can expect to pay between $100 and $150 per month for a 10×10 storage unit. If you compare that to a rent-to-own 8×12 shed from Backyard Outfitters at under $79/month…the choice is clear. Why pay more when you don't have to?
Another great reason to store your belongings in a building from Backyard Outfitters is because WE BRING THE STORAGE BUILDING TO YOU!! If you live within 30 miles of one of our Backyard Outfitters dealers, you can have a storage shed delivered to your location and set up at NO EXTRA CHARGE. Storage companies will not delivery a storage unit to your house and set it up for free. The added advantage of having your storage on site is you don't have to load up your vehicle and drive across town to the storage facility. Also, your storage hours are not set by someone else. You can come and go as your please in your own 8×12 storage unit.
A final reason that storage companies hate our 8×12 sheds is that you can get one from us with NO CREDIT CHECK. You read that correctly. We make the process of getting a storage unit as easy as possible. By not performing a credit check, your credit score remains untouched and is not negatively affected by lots of credit inquiries. Also…if your credit isn't as strong as it could be, we will still rent-to-own a spacious 8×12 shed to you. Don't waste your hard earned money on a storage unit from someone when you could get one of our rent-to-own sheds and OWN it. If you have any questions about any of our storage sheds, please give us a call today at 615-807-1386 and we'll be glad to assist you. Store smarter with Backyard Outfitters.