Garden Sheds
Garden sheds can provide a unique and functional addition to your outdoor space. Whether you're looking to create a cozy hideaway or a practical storage solution, the possibilities are endless. With the right design and layout, you can create the perfect garden shed that fits your lifestyle and needs. From choosing the right materials to understanding the basics of shed construction, this article offers valuable tips and ideas for designing your outdoor space. With a little bit of planning and creativity, you can make your dream garden shed a reality. Garden sheds come with many benefits, such as being a great way to store outdoor garden tools and equipment. They are also great for keeping outdoor items such as sports equipment, bicycles, outdoor furniture, large outdoor items, as well as plant seeds dry, which can be helpful when there is a lot of rain.
Choosing the right materials for your garden shed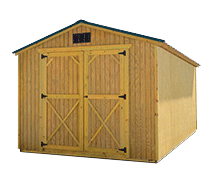 Choosing the right materials for your garden shed is crucial to the success of the project. Different materials have different properties, and these properties determine the success or failure of the project. There are 2 primary siding options when it comes to garden sheds: wood or metal. The material that you choose should be able to withstand the conditions that your shed will be exposed to. This includes the temperature of your area, the amount of moisture in the air, and the amount of sunlight that your shed will receive. In order to choose the best materials for your project, you must take into consideration a few factors. The type of materials that will perform best in your area depends largely on the climate in your area. For example, wood sheds tend to perform well in warm climates while metal sheds are much more durable in cold climates. One of the primary advantages to wooden sheds is their natural insulation properties. Wood sheds have grown in popularity for the last 20+ years.  Another advantage is that it is much easier to add windows to wooden garden sheds, which allows for much more natural light. Wooden sheds are, however, generally more expensive to purchase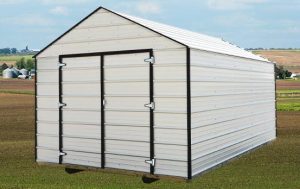 Metal sheds are most often the cheapest sheds that can be purchased. More often than not, these sheds are constructed with metal side walls as well as metal roofs. They can come in various sizes and many different color. However, most metal sheds sold today range from 10′ x 12′ on up to 12′ x 24′. The primary advantage of a metal garden shed is the cost. The primary disadvantage to metal sheds is that most are not constructed with windows, therefore natural light is limited. This can be alleviated by adding lighting inside the shed.Your budged will also likely dictate how much shed you can afford. At Backyard Outfitters, we offer Rent-To-Own Sheds that will fit into any budget.
Planning the exterior design of your garden shed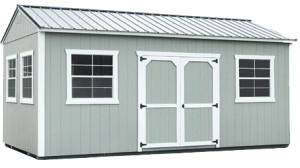 The shape and size of your shed will come down to exactly what you plan to do and how much stuff you plan to store in it. For example, we would suggest a minimum size of 10' x 16' garden shed if you want a shed that can accommodate all of your outdoor gear. It's important to think through the exterior design of your garden shed before you begin ordering. Things to consider include: the type of roof, exterior paint colors, and other exterior features such as windows, and doors. Depending on the size, shape, and purpose of your shed, you can create a unique exterior design that adds to the beauty of your property. The structural design of a garden shed can range from a simple Utility Shed to a Lofted Barn which comes with built in overhead storage. Window placement in relation to the way the sun rises and sets might be a factor to consider when planning your garden shed build out as well.   Another factor to consider is how big of openings need to be on your garden shed. Most single door openings on sheds is 36″ wide. For most gardening supplies, this is sufficient. However, for those who need to bring a larger mower or tiller into their shed, they will likely need to purchase at least a 10′ wide shed with double doors to accommodate. Another good addition to any garden shed is a ramp for those who need drive in their mowers or tillers.
Designing the interior space to fit your needs
The interior design of your garden shed plays a major role in its overall success. This includes the layout of the space and the available storage options. For example, you can create a more practical interior design that is perfect for storing equipment, gardening tools, and other outdoor items. You can also create a more spacious interior design by placing benches or shelves along one or multiple walls. This allows you to create a more efficient interior design that is ideal for storing items. Depending on the size and shape of your shed, you can choose the interior design that fits your needs best.
How to maintain a garden shed
Maintaining your garden shed requires regular upkeep so that it lasts for many years. This includes checking for leaks in the shed, patching up any holes, and checking the waterproofing of the roof. Regular upkeep will help ensure your shed lasts for many years to come. You can start by checking for cracks in the shed. If there are any leaks, you can fix them by caulking the cracks or by replacing the shingles (or metal roof) if they are damaged. When maintaining your garden shed, keep in mind that you want it to last for many years. This includes checking for cracks in the shed and patching them up, patching up any leaks, and checking the waterproofing of the roof. Remember, all Backyard Outfitters buildings come with a 5 Year warranty so many of these fixes are covered under your warranty.
Conclusion
Garden sheds are one of the most versatile buildings you can use as a storage shed and outdoor activities. Whether you want to create a small hideaway or an outdoor office, these off-the-grid buildings offer a multitude of options for creating the perfect shed for your outdoor needs. They are also extremely durable, so you can rest easy knowing that your space will last for many years to come. With the right design and planning, you can create the perfect garden shed that fits your lifestyle and needs. Should you have any questions about storage sheds, let the shed experts at Backyard Outfitters answer any questions you might have.
Article updated in 2023