Portable buildings have been popular with homeowners for decades.  They have been the perfect solution for the "too much stuff" problem.  They provide garage benefits for homeowners that don't have one, and they are a convenient way to keep "stuff" out of plain sight.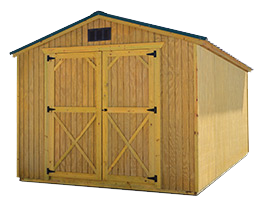 With all the size options available, what has been the most popular?  The go to is the 10×12 shed. These sheds can be either a wooden shed or a metal shed.   They are versatile without taking up too much yard space.  Most properties can handle this size of building without it looking overwhelming in size.   The 10×12 shed is large enough to offer extra space, but it is still a manageable size to maintain.  They can be built, painted, and decorated to blend into the landscape and existing buildings. They can be customized with windows and doors to meet your needs.  Meanwhile the interior allows for built in shelves or a table while still leaving room to move around and work.  Depending on building codes in your area, you can even add electricity and more!
Although portable buildings remain popular, their function has evolved from merely extra storage space to valuable work space.  It may involve additional contract work on your end to customize the space for your needs, but it is going to be cheaper than adding an addition to your home.  The following suggestions are not an exhausted list of possibilities, but it may give you some ideas on how you can turn your storage shed into usable area!
Shelter for your pets from rain, snow, cold, and heat.
Craft shop for scrapbooking, quilting, etc. as well as a place to store all of the craft materials.
Home Office-Keep your over head low; create a quiet secluded place to work
Playhouse/Game room for both kids and grandkids
Pool house– Create a changing room and store pool supplies
Homeschool– It provides some separation from living space in the home
Exercise Gym– Install a small TV, store weights, design your yoga room
Sitting room– Create a getaway for reading and much needed quiet time
Potting Shed for growing, potting, and transferring flowers
Garden Shed to keep gardening tools handy, store seeds, and freshly picked vegetables
Workshop-Do your woodworking and keep the dust and paint fumes out of your home
Tool shed-Get tools organized and build in a workbench
Mechanic shed– The car can stay parked outside while you have easy access to all your diagnostic and repair tools
If you drive by a storage facility on weekends, you will often find 10×12 sheds being used for several purposes beyond storage.  Instead of paying monthly rent at a storage facility, put your money into a 10×12 shed from Backyard Outfitters so you don't have to leave home to use it!