Every company has a product that they sell that is their best seller. We sell several popular prefab storage barns. We sell everything from a simple 8′ x 12′ metal storage shed to super spacious 14′ x 40′ deluxe prefab cabin. Depending on the territory can affect which buildings sell better than others. Based on overall sales, the following buildings are our most popular storage barns.
#1. The Lofted Barn Cabin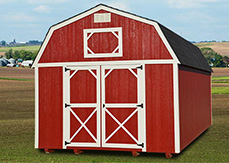 Far and away, the number one building we sell is the lofted barn cabin, also known simply as lofted barns. We sell this building is sizes ranging from 8′ x 10′ all the way on up to 14′ x 40′. The main reason for the popularity of this barn is the lofted area which offers plenty of overhead storage when a lofted storage area is added.
#2. The Utility Shed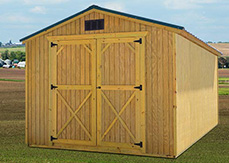 Our second most sold building is our wooden utility shed. The utility shed is used to store everything from garden tools to Christmas decorations. These buildings range in size from 8′ x 8′ on up to 14′ x 40′ similar to the lofted barn cabin. These buildings offer a lower price entry compared to the lofted barns but also come at a sacrifice with limited ceiling height.
#3. The Lofted Cabin Shed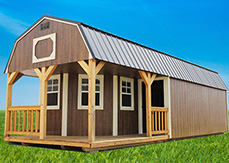 Our third most popular building (but quickly gaining in popularity) is the deluxe lofted cabin. These buildings have become increasingly sought after for people choosing to live in them. With their large overhead space, front porch and traditional entry door, these structures a building quite a following. Please note: we do not sell tiny homes. We are merely saying what our customers have said they are using them for.
Which portable building best meets your needs? If one of these three buildings does not meet your specific needs, see our other portable buildings. Also, we would love to visit with you more about building the perfect building to meet your needs. Call us today at (615) 807-1386!