Looking For the Perfect Motorcycle Storage Shed?
Riding a motorcycle on the open road can be one of the most exhilarating experiences available.  Motorcycles have changed dramatically over the last several decades, but one thing that has remained the same is the need to protect motorcycles from the elements. Many motorcycle owners have opted to get dedicated storage for their investment with many owners opting for a motorcycle storage shed. The value of a motorcycle storage shed can't be overstated. After all, some motorcycles can cost upwards of $40,000 to $50,000. Motorcycle storage sheds also save valuable storage space in garages that can be used for automobiles. With the cost of now owning a storage shed for your motorcycle within reach through rent to own shed programs, more and more motorcycle owners are opting for this option.
3 Popular Motorcycle Storage Sheds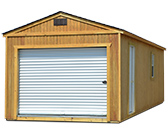 The standard garage is the best selling motorcycle storage option. With a roll up door, side door and a window, this unit is perfect for storing your motorcycle with plenty of room to spare for accessories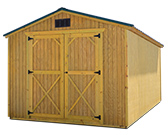 The utility shed is another great storage choice.  On the 10′, 12′ and 14′ wide version, the utility shed comes with double doors which makes entering and exiting the building super easy."    note: 8′ wide building come with a single door.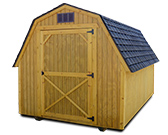 The lofted barn is a great third option to store your motorcycle. With a lofted 10×12 shed, more storage is available above the motorcycle and also you have more headroom in the barn as well.
Each of the above storage sheds are built to exacting standards so you can rest assured that your motorcycle will be safe from all different kinds of weather. To better protect against moisture, the above sheds are built on 4″x 6″ pressure treated runners, therefore some kind of small ramp may be needed to help entering and exiting the building. All of our buildings are built with the highest quality materials by skilled craftsmen that are trained to do the job right. Our wall studs (on our pressure treated as well as painted buildings) are on 24″ centers. They also have double the support under siding seems which is designed to help seal the buildings up. This sealing is designed to keep pesky moisture out of your motorcycle storage shed.
Whichever motorcycle storage shed you go with, you can't go wrong. You've invested lots of money in your motorcycle and to help maintain that investment, a storage shed is the perfect option. Got questions? Call us today at (615) 807-1386!!
Check Out Our June 2022 Pricing Specials Here!
June
2022
DOWNLOAD Our FREE 2022 Buying GUIDE!
Over 90% of people now do research on the internet before buying a product. At Backyard Outfitters, we have put together a Building Buying Guide to help you understand the different types and sizes of buildings that are available. Our buying guide also includes our complete pricing list along with all available options and construction details. Download our FREE guide today!!
Call And Speak with a Building Expert! 615-807-1386