Barn siding comes in a number of different varieties. The different barn siding options can be broken down into 3 basic categories. Those three most common barn siding options are: T1-11 siding (plywood or OSB), engineered wood and metal barn siding. 80% of portable barns are constructed with either T1-11 type siding or a engineered wood product like LP Smartside. Metal siding is most often used in large pole barn type structures but portable barns also use metal siding.
T1-11 Siding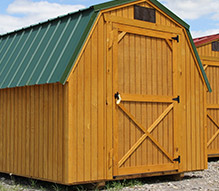 T1-11 (or Textured 1-11) is a grooved plywood siding. The grooves on this siding allow it to imitate vertical shiplap siding. T1-11 siding comes in two basic versions: plywood and OSB (oriented strand board.) At Backyard Outfitters, we use the plywood over OSB T1-11 barn siding on our models. The OSB version is less expensive and is made of wooden flakes and or wood strands that are glued together using resin, pressure, and heat. The main reason people use OSB T1-11 is that it is cheaper, but that comes at a price. The OSB version does not hold up as well to the elements due to the way it is manufactured. OSB siding can't be stained, it must be primed and painted. All of our barns are built with T1-11 plywood siding.
LP-Smartside Panels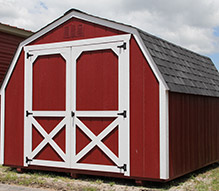 Another popular barn siding that we use on our buildings is LP Smartside. This product is not particle board, not waferboard and not chipboard. This product is an engineered wood siding that is treated into the core of the material with wax, an advanced formula of binders as well as zinc borate. After impregnation, the material is bonded with a water resistant, resin-saturated overlay. This engineering method creates a product that is ultra durable and fungal resistant which stands up well in harsh environments. This particular brand of barn siding comes in a wide array of color choices.
Metal Siding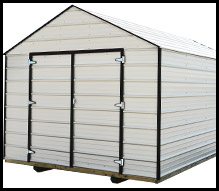 Metal barn siding is yet another option. There are a few reasons that portable barn builders build with metal siding. One reason is ease of maintenance. Metal siding can fade over time just like any building material that is exposed to the elements. However, metal siding doesn't require any continued maintenance. Another reason metal siding is used is because the price of metal has gone down. Metal sheds are a often popular option for those people who are more price conscious.
A lot of this really comes down to preference. Each barn siding option has both pros and cons. Some of it comes down to appearance. There are many consumers who prefer the look of a traditional treated and stained wood, while others prefer to add some color to their yard. Whichever siding you prefer, Backyard Outfitters, has a building to meet your needs. Let us know how we can help!