Garden Sheds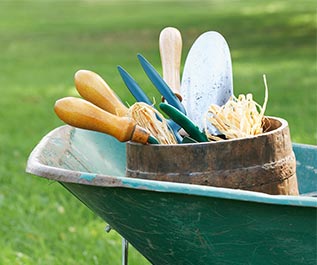 It's winter time, but spring will be here before you know it. The time to start planning your flower or vegetable garden is right now. Finding the best seed for your soil, the best tools to use during planting, and how to properly store all of your gardening supplies are topics on everyone's mind. Garden sheds can't help you with seed choices or planting times, but garden sheds can be a great solution for where to store all of your gardening supplies. Garden sheds come in many different shapes, sizes, and colors. Depending on exactly how much gardening you are doing, will determine the best garden shed for your needs. There are two basic types of garden sheds: metal and wooden.
Metal Garden Sheds
Metal sheds are most often the cheapest sheds that can be purchased. More often than not, these sheds are constructed with metal side walls as well as metal roofs. They can come in various sizes and many different color. However, most metal sheds sold today range from 10′ x 12′ on up to 12′ x 24′. The primary advantage of a metal garden shed is the cost. The primary disadvantage to metal sheds is that most are not constructed with windows, therefore natural light is limited. This can be alleviated by adding lighting inside the shed.
Wooden Garden Sheds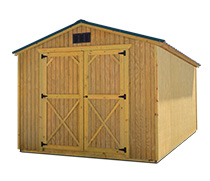 Wooden garden sheds have become much more popular over the last 20 years. One of the primary advantages to wooden sheds is their ability to be better insulated from the elements. With proper insulation installed in a wooden building, your gardening supplies will face less exposure to humidity and other elements. Another advantage is that it is much easier to add windows to wooden garden sheds, which allows for much more natural light. Wooden sheds are, however, generally more expensive to purchase. There are several rent to own sheds that are available for people on limited budgets.
Another factor to consider is how big the opening needs to be on your garden shed. Most single door openings on sheds is 36″ wide. For most gardening supplies, this is sufficient. However, for those who need to bring a larger mower or tiller into their shed, they will likely need to purchase at least a 10′ wide shed with double doors to accommodate. Another good addition to any garden shed is a ramp for those who need drive in their mowers or tillers.
There are several things to consider when buying a garden shed. Should you have any questions, let the shed experts at Backyard Outfitters answer any questions you might have. Don't hesitate to give us a call at 615-807-1386
Check Out Our July 2022 Pricing Specials Here!
July
2022
DOWNLOAD Our FREE 2022 Buying GUIDE!
Over 90% of people now do research on the internet before buying a product. At Backyard Outfitters, we have put together a Building Buying Guide to help you understand the different types and sizes of buildings that are available. Our buying guide also includes our complete pricing list along with all available options and construction details. Download our FREE guide today!!
Call And Speak with a Building Expert! 615-807-1386